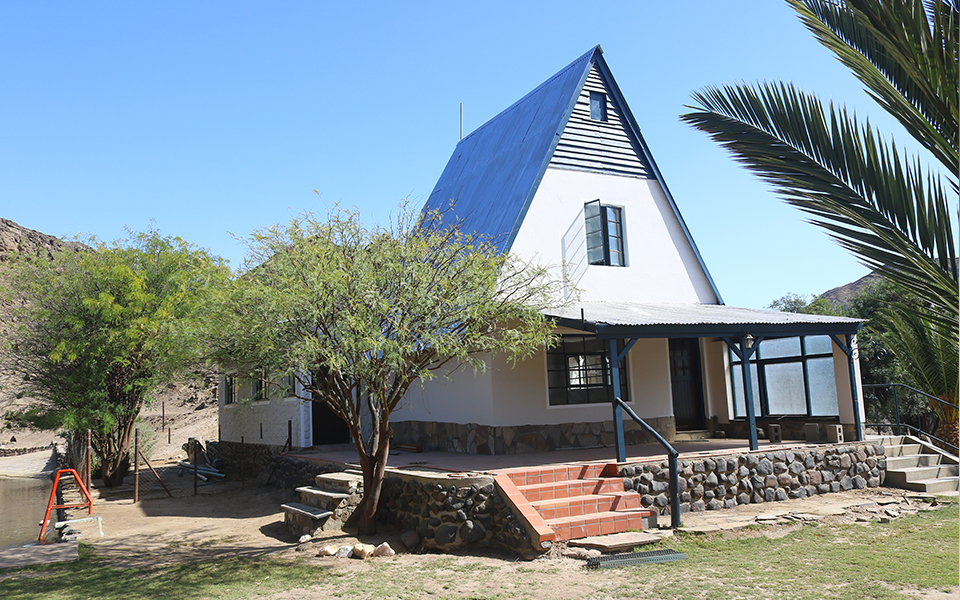 WHITE HOUSE
Kitchen – Stove and Fridge
Outside Entertainment area
4 Private rooms - 3 Bathrooms
1) 4 Single Beds
2) 2 Single Beds + 1 Double Bed
3) 4 Single Beds
4) 4 Single Beds
5) Living Area – 4 Single Beds
No cutlery and crockery included – can be hired at Reception
Deck area where +-20 people can sleep (own mattress & bedding)
FAMILY HOUSE (POOL HOUSE)
Kitchen – Stove and fridge
Next to the swimming pool
Sleeps 12 persons - 5 Bedrooms
1) 2 Single beds
2) 2 Single beds
3) 2 Single beds
4) 2 Single beds
5) 4 Single beds
Provide own cutlery and crockery or hire at reception
Book Now
BUNGALOW 2+3
We have two family units that can sleep four people. The two-room bungalows are perfect for families who wish to stay together and enjoy a comfortable afternoon and evening as a family. These units both has 4 single beds in total, with their own bathroom and braai.

2 Rooms with four (4) Single beds and one bathroom
Coffee Station
Braai Area, bring own grid
Provide own cutlery and crockery or hire at reception
Shaded Parking
DOME BUNGALOW 4, 5, 6 & 7
Four of our bungalows sleep two people and feature twin beds. These domed buildings are cool retreats with curved walls, making for a peaceful night's sleep. They are unique structures and perfectly fit in to the local environment. Each has its own private bathroom and individual braai facility.

1 Room with two (2) Single beds and one bathroom
Coffee Station
Braai Area, bring own grid
Provide own cutlery and crockery or hire at reception
Shade Parking
Book Now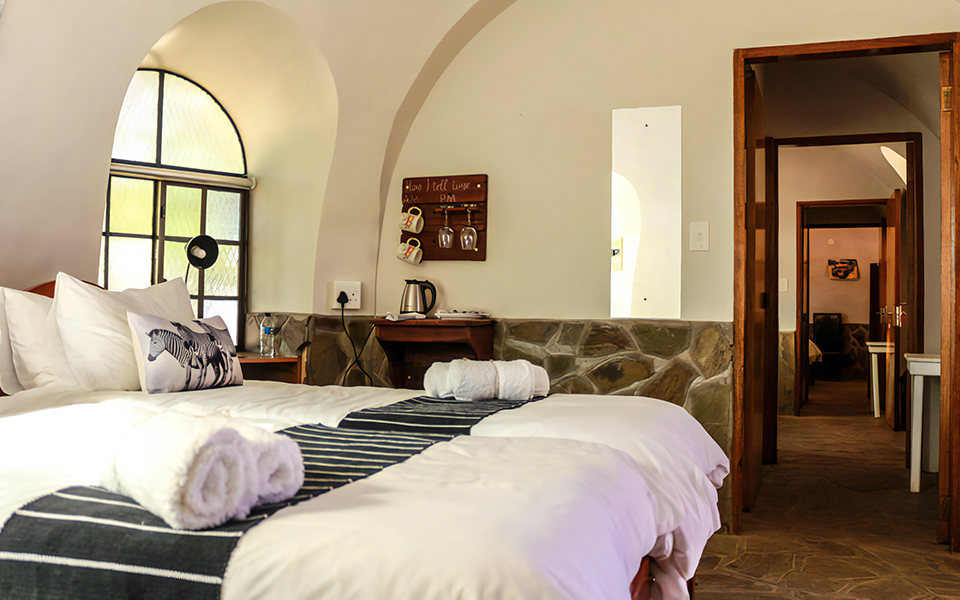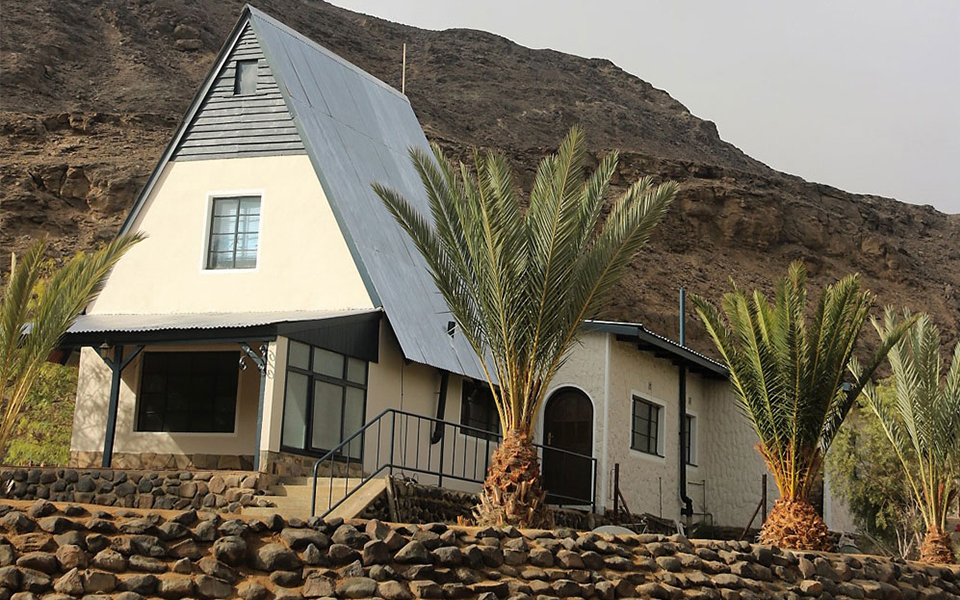 A-Frame Bungalow
Our two luxurious two-storey A-frame bungalows are extremely popular and incorporate the natural boulders of the valley into their structure. With a living area on the bottom floor and a bedroom on the top, including a balcony, enjoy your own private chalet overlooking the Swakopmund River. These units sleep two or three, feature ensuite bathrooms and a braai.
A-FRAME LUXURY BUNGALOW 8 +9
Two rooms with four (4) single beds
Two beds on ground floor and two on upper floor
Breathtaking view over Goanikontes Oasis and the Swakop River
Coffee Station
Braai Area, bring own grid
Provide own cutlery and crockery or hire at reception
Shade Parking
Book Now
Campsite
Our 14 standard campsites each have their own braai, central power supply and fireplace. There are shared ablution. The sites have easy parking access and campers can either cater for themselves, or make use of our restaurant. Breakfast is not included.
Prices
a.) 14 Normal Campsites - campers share a communal ablution block:
b.) 4 Private Campsites with a private ablution block:
c.) Camp Brock:
• Unique, private campsite, built for larger groups,
All sites have power points and under shady trees with braai facilities Book Now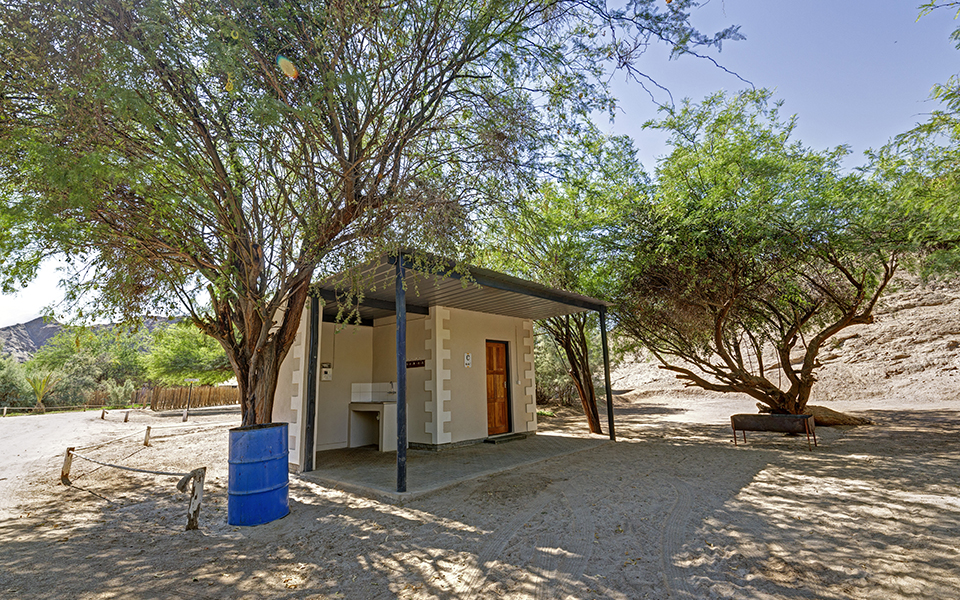 Pet Policy
Your four-legged companions are welcome to accompany you in our Campsite and on our premises. We do, however, request that you refrain from allowing your pets inside our Iglu and A-Frame bungalows and family homes.
Book A STAY